Donholt takes 11th McBride Memorial win!
By Jason Bonsignore
Photo of winner, Casey Donholt, left, with Tuff McBride in Green and Lenny McBride by Kelly Klees
Champion Speedway, August 5th, 2023
The Larry and Kathy McBride Memorial event each year at Champion Speedway pays tribute to a great couple, who raised two of the best East Coast speedway riders of all-time, multi-time track Champions, Tuff and Lenny! Larry did the videos of all the races for years and wrote press releases and stories from all the tracks while wife, Kathy, did scoring and signups! The race always is a fun night and this past Saturday at Champion Speedway was no different! As a special addition, multi-time NYS and US Open Champion, Warren Diem, who is battling some health issues, was also present to be inducted into the East Coast Speedway Hall of Fame and was ridden around the track on his old Godden bike which was generously loaned for the night by former rider, Kelvin Herrala!
The 3 rounds of scratch racing which decided points for who would make the two semifinals was highly exciting! The D-1 program has been very competitive this season with many surprises as to who, and who does not, make the mains each week. Former 5-time track champion, Adam "The Missile" Mittl was the fastest rider in the heats with 9 points, going undefeated and also winning his semifinal! Five riders would be tied for second with 7 points each including, Casey "Dominator" Donholt, "Flyin" Brian Hollenbeck, Lenny McBride, Mikey Buman and "Sideways" Spencer Portararo! Caleb "Flying Mullet" Stewart and Levi "Hornet" Harris would round out the final spots in the semis with 3 points both. Donholt would take the first semi with Hollenbeck taking the second transfer position ahead of Stewart and Portararo. As stated previously, Mittl won the second semi with McBride second, Harris third and Buman fourth. Buman would re-deem himself by winning the last chance to take the final transfer to the Main Event.
Prior to the Main, AFT pro-rider, Logan McGrane, Warren Diem's nephew, won the 2nd Division main in his speedway debut!
Mittl had first choice of gates for the feature and chose gate 4. Donholt then chose 1. Hollenbeck grabbed gate 2, McBride 3 and Buman was left with the outside. Donholt made one of his perfect starts and grabbed the lead on his Justice Bros/TANKS AUTO SALES/JOE V'S AUTO REPAIR/SCOTT'S Headers Jawa, while his main competition, Mittl, got squeezed out off the line and found himself all the way at the back on lap one! Mittl would feverishly go to work passing each rider over the next few laps but was unable to get by Donholt and had to watch Donholt cross the line just ahead of him to take home the McBride Memorial for an incredible 11th time! Hollenbeck would finish 3rd with Buman 4th and McBride 5th.
The next event at Champion Speedway is the Danny Moonbeam Fallon NYS Championship Rond One on August 19th! The racing has been awesome this season and it will be really good that night as riders vie to be New York State Champion! The final round is August 26th at Action Park East in Greene!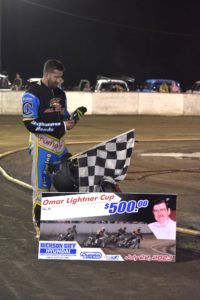 Donholt wins Omar Lightner Cup – July 22nd, 2023
By Jason Bonsignore
Photo of Casey Donholt with bonus winners check from Dickson City Hyundai and pic of Donholt with Omar Lightners family both by Kelly Klees
Things keep getting better and better at Champion Speedway this season and the Omar Lightner Cup, which celebrates the memory of former track worker, Vestal Plice officer and friend to many in the sport, was an excellent example!
The second largest crowd of the season was on hand to see another well-run program that concluded by 10pm for the 4th week in a row and featured some of the best races for a regular night in 10 years possibly!
The field was deep for the all-scratch event and 5-time track Champion, Adam "The Missile" Mittl was on the program for the first time this summer which added to it in a big way! Casey Donholt and Mittl were a step above the rest as Donholt went undefeated in the heat rounds and Mittl's only loss came when he blew his engine while leading.
Donholt would take the first semifinal over another 5-time track camp, the legend Lenny McBride, who ran a superb race with youngster Caleb Stewart for four laps shoulder to shoulder with McBride taking the direct transfer to the Main.
Mittl would handily win his semifinal on his JOE V's Auto Repair/TANKS AUTO SALES/Justice Bros Car Care Products/Scotts Headers JAWA, over former track champ, Mikey Buman, who held off a challenge from current East Coast Points Champion, "Sideways" Spencer Portararo.
Two time feature winner this season, "Flyin" Brian Hollenbeck, would make no mistakes in the last chance qualifier to grab the last spot in the evenings big money race by winning over Stewart, Portararo and Mike Cortese in that order.
For the Dickson City Hyundai Sponsored Omar Lightner Main Event, Donholt had gate one, Buman two, McBride three, Mittl four and Hollenbeck five.
On the first attempt Donholt got off the line first and took the lead going into turn one but Mittl blasted around the outside of him coming off turn two and appeared to be headed to the win until a 3 rider crash happened just behind them bringing out a red flag stoppage! McBride was deemed the cause and put back 10 yards for the re-start. Donholt would again make a strong gate and despite Mittl getting in just behind him from the start and pressing hard for all 4 laps he could not over take him and Donholt piloted his Scotts Headers/Justice Bros/JBR Jawa to another Lightner Cup Title and went home with the cash from Dickson City Hyundai and a very cool big check sign made by ESJ Graphics!
Champion Speedway races again on August, 5 for the Larry and Kathy McBride Memorial at 7pm! Be sure to catch the awesome action!
Portararo Hammers em at Champion!
By Jason Bonsignore
Photo of the Main Event start by Kelly Klees (From left to right: Mike Buman, Casey Donholt, Caleb Stewart, Len McBride and Spencer Portararo
July, 8, 2023 Champion Speedway
Another great field of riders took part in the July 8th event at Champion Speedway and a nice crowd was on hand to see some great racing!
The first time the Division One riders took to the track it was scratch format and then depending on your finish the next two heats would be handicap format. If a rider won a heat they would start from the 30 yard line the next time out. If they were second place they would start of the 20, third would come from the 10 yard marker and fourth from the zero! At the conclusion of 3 rounds of heats the top 8 would be placed in two semis with the top two from the semifinals gaining Main Event berths and the bottom two taking part in one more last chance run-off with the winner taking last position in the final!
Six of the eight who would make the semis tied on 7 points each after the heats. Those riders were Caleb "The flying Mullet" Stewart, "Flyin" Brian Hollenbeck, "Sideways" Spencer Portararo, Casey "Dominator" Donholt, Mikey Buman and 5-time track Champion, Len McBride! The last two to make the semi cut were Levi "Hornet" Harris and David Meldrum from Scotland who was making one of his guest appearances! Donholt and Portraro would make it out of semi one while McBride and Stewart were tops in semi two. Buman would put in a strong last chance win to round out the Feature!
One the first attempt at the Main, Portararo was on the inside of Donholt on lap one coming off turn four when they both got wide and tangled with Donholt going down hard into the wall. Portraro was not deemed the cause of the stoppage as he had a slight lead on Donholt but it was very close racing. Sadly although not seriously hurt, Donholt was a bit too bruised up to take part in the re-run. Portararo would leap out into the lead again on his Harman Boyz/Justice Bros/TANKS AUTO SALES/JOE V's Auto Repair/Cloud 9 powered GM and despite a bit of pressure from McBride, he would take his first Main Event victory of the season! McBride looked very good and got second in his strongest showing since coming back from a long layoff from an injury suffered last season. Buman would battle for a hard fought third and looked good as well.
It was the 3rd time in a row the program started on time and ended right at 10pm which has been great for the fans!
The racing in the other divisions was equally as entertaining! Be sure to come out and catch the next race, The Omar Lightner Championship, on July 22nd at 7pm which is sponsored by Dickson City Hyundai who is kicking in extra cash for the Main Event!
More information at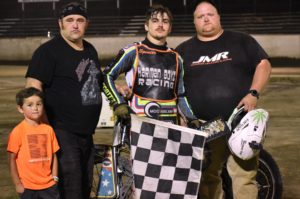 Hollenbeck makes it 2 in a row with Bassett Cup win
By Jason Bonsignore
Photo of Brian Hollenbeck by Kelly Klees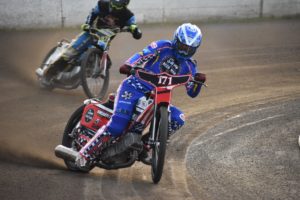 Champion Speedway, June 24, 2023
When most race tracks around the area had already canceled for the evening on June 24th, Champion Speedway waited out the storm that was hitting the track around 5:30pm and was rewarded with a nice night of racing after track prep and only had to start 30 minutes late.
The riders were competing for the prestigious Hurricane Hank Bassett cup which honors the former 4-time track champion who lost his battle with MS some years ago now.
The deepest field of D-1 competitors of the season turned up and early heat racing was very good with close racing!
After 3 rounds of heats the top 8 went to 2 semifinals. In the first semi it was Casey Donholt who took the win over Caleb Stewart, with both transferring to the feature. Mike Cortese and Brian Hollenbeck would go to the last chance. The second semi saw 5-time track Champion, Len McBride, leading it until catching traction and having to lay the bike down on the last lap which gave GP Jonny Oakden the win and moved Dave Oakden into a transfer spot. McBride and Spencer Portararo would have to take part in the last chance as well.
In the last chance the tapes went up before a couple riders were ready, incuding McBride who had the pole position. Hollenbeck jumped out into a big lead and despite McBride's best efforts to overcome the disadvantage he could not and Hollenbeck would take the final Main Event slot.
Donholt was the evening's top scorer and surprisingly chose the outside start spot in the Main hoping to take home an extra big payout that was generously sponsored by former sprint car driver, John Matrafailo from PA, who has become a big speedway fan lately! Hollenbeck chose gate one, which worked very well for him as he leaped out of the gate with a lead although Donholt got around everyone else and the two were close down the back straight until Donholt caught traction and looped his bike over taking himself out of contention! Hollenbeck would take home the big check and second win in two weeks with young Stewart inheriting second place. Veteran Dave Oakden was 3rd followed by Jonny Oakden and Donholt.
The action has been excellent at Champion this season and the program has been run timely! If you have not yet been out to see it, your next chance is July 8th, which is the Olympique format that always provides a good show! Racing starts at 7pm!
Hollenbeck wins Jagger Roberts Trophy Night at Champion Speedway
By Jason Bonsignore
Photo of Brian Hollenbeck by Kelly Klees
June 10, 2023
It was a nice evening of weather for the June 10th Jagger Roberts Trophy night at Champion Speedway, which pays remembrance to the young Sayre, PA boy who was killed racing an ATV at a Hare Scramble several years ago.
There has been a strong turnout of riders at Champion so far this season and this event was no different! Riders were hungry for the Roberts trophy and ready to put a show on!
In early handicap heat racing action, Mike Cortese from Stirling, New Jersey and Caleb Stewart from Apalachin were winners. Len McBride from Windsor and Brian Hollenbeck from Owego took second places.
In the handicap semifinals, both McBride and Hollenbeck would move up a spot to win and gain positions in the final. Stewart and Spencer Portararo of Endicott would finish with seconds and the final transfers to the Main Event would go to Casey Donholt and Levi Harris, who both would get thirds.
On the scratch side of the program Portararo and Donholt were heat winners and while Donholt also won his semi, the second semi victor was Len McBride, who put in a vintage ride over second placed Hollenbeck. Portararo transfered to the feature with a close second to Donholt.
Cortese, Jerry Harman, Harris and Alex "Hazard" Heath would make up the last chance. After Heath tangled with Cortese and everyone went down on the first try it was Cortese who made a lightning fast start and would win the re-run!
In the big money evet of the evening, the scratch main, Hollenbeck was off gate one, Donholt two, Portararo three, McBride four and Cortese with the outside. Sadly McBride suffered an engine failure off the line and was out.
Hollenbeck blasted into the lead on his Nic V Films/Planted Earth Hyroponics/Asterisk/1st Glass/Binghamton Honda/Bell Helmets/Jimmy Joe's/The Dugout/Found Antiques/Voytek/Dand M Hauling/Powersorts X/Sam the beer man GM with Donholt in hot pursuit. The two would go all four laps side by side with Hollenbeck holding the inside and Donholt outside. Portararo was in third when his chain broke taking him out on the second lap. Hollenbeck would hold a nice line to go onto the win, stopping Donholt's win streak at 3!
In the handicap main, young teenager, Stewart, would ride an excellent race to take home the checkered flag against an older, more experienced field! The evening's last race concluded just before 10pm, completing a well-organized program!
The next event at Champion Speedway, June 24th and is the Hurricane Hank Bassett Cup Championship! Racing starts at 7pm
Donholt takes Hobart Memorial at Champion!
May, 28th, 2023
By Jason Bonsignore
Photo of winner Casey Donholt
Attending the Speedway Races is really becoming the Saturday Summer night thing to do in Nichols once again as Champion Speedway hosted a large crowd again for it's Motorcycle Mayhem!
The weather was hot and the program started at 6pm being it was a special Sunday evening event so early racing required a little extra watering but the track shaped up nicely and produced some fine racing! The event was the final round of a two-night Meggan Hobart Memorial championship which pays tribute to the former track ticket taker who sadly lost a battle with cancer last year. The evening was sponsored by Team M, an upstart race team out of the Endicott area taking the sport by storm, in memory of Paul "Skip" Brink. Team member, 14-year old Albert Smith, brought the crowd to its feet in the Division Two Main as he overcame a 20 yard handicap to pass 5 riders and win by inches on the last lap in the feature!
In Division One, Former track Champion, Casey "Dominator" Donholt, came in with the overall points lead from winning the night before at Action Park East in Greene. Donholt, Spencer Portararo, Len McBride, Brian Hollenbeck, Jonny Oakden, Mike Cortese, Caleb Stewart and Jerry Harman would make up the semifinals.
Hollenbeck and McBride went one and two out of semi number one to earn a spot in the Main Event while Donholt and Portararo did the same. Caleb Stewart, another fast young teenager who looked very strong, would win the last chance to be the last rider in the feature!
Donholt, known for his superior starts, used his skills to blast his SCOTT'S HEADERS/TANKS AUTO SALES/JUSTICE BROS/JOE V'S AUTO REPAIR Jawa into the lead and rode aggressively for 4 laps to make certain Portararo's hard charges would not change the outcome and went on to win the Meggan Hobart Memorial Championship in fine style!
Fans enjoyed the timely start and the program concluded by 9:40pm which allowed them a chance to hear the live band and not get home too late! The junior program was excellent and there is a lot of new talent down at Champion worth bringing family or friends out to see!
The next race is June 10th, the Jagger Roberts trophy night! Remember, for those who are ATV race fans, there is also a full program of ATV racing on the track out back at Champion every speedway race night so you can check out TWO events for the price of one!
Photo of Casey Donholt getting the winner's trophy from the Promoter by Kelly Klees
May 13, 2023
Champion Speedway opened it's 49th season with the Patrick Ahlund Spring Classic under beautiful skies May 13th!
There was a great turnout of Speedway, Trike and ATV racers along with one of the better spectator crowds in the last two seasons!
Some excellent racing took place with a great mix of veterans, rookies and young Junior riders making for an awesome show!
Former track Champions, Casey Donholt and Len McBride, along with current Champion, Spencer Portararo, all were early heat winners and looked strong. Keith Hawkins, a crowd-pleasing rider from Nichols who had not raced in two years, made a comeback and did well, adding good flavor to the D-1 mix. Jonny Oakden returned from racing in CA most of last season also and it was nice to see McBride back in form, returning from an injury where he missed the last few shows at the end of last summer. Brian Hollenbeck, the top Owego rider, was on the program too and had only raced once in 2022.
At the conclusion of the heats the top 4 in points were Donholt, who suffered his only heat loss to Portararo, then Portararo, followed by McBride and Hollenbeck. They would all gain an automatic berth in the Scratch Main while the 5th competitor would come from the last chance. The LCQ was made up of Levi Harris, Dave Oakden, Hawkins and Caleb Stewart. Harris would take the win and the final main event slot.
Donholt used his sharp gating skills to nail the holeshot in the final, and while Portararo pushed hard for four laps, he was able to keep his JBR/Justice Bros/TANKS AUTO SALES/Joe V's/Scott's headers JAWA in the lead for the win! Portararo was second, Hollenbeck third, McBride fourth and Harris fifth.
It was a successful opener and there was a lot of excitement and seems to be a renewed interest!
Everyone is eagerly awaiting the next event, which will be Sunday, May 28th at Champion Speedway…the Meggan Hobart Memorial Spring Championship at 6pm. The live band BREWHAHA will be paying right after the races. It is part of a two day event with round one being Saturday at Action Park East in Greene. More information can be found at