[OCT 11, 2O2O] Nicol Takes National Speedway Title
By Jason Bonsignore
Photos from Kris Keath and Brian Walsh (Broc Nicol holds the number one plate with his Dad, Doug) (Nicol on the outside of Janniro and Correy) (Janniro leads East Coast Champ Spencer Portararo in yellow)
Champion Speedway Owego, NY October 10-11, 2020
With Speedway Motorcycle tracks in California facing the reality there would be no US National Championships for 2020 due to the Covid pandemic regulations, East Coast promoter, Jason Bonsignore, hatched a plan to host the Outlaw Nationals at Champion Speedway in October to give racers a title event to compete for.
Bonsignore was thrilled to secure some of the top American talent for the two day show including 10-time AMA Champion, Billy Janniro, former National Champion, Broc Nicol, fast young guns…Dillion Ruml and Blake Borello and to everyone's surprise, a former five-time World Finalist, "Rocket" Ronnie Correy! Correy is widely regarded as one of the best Americans of all-time and had been retired for many years. He did not disappoint!
The racers would compete in five heat rounds with the top 4 riders in points going to the evening A final. Riders outside of that were placed in B, C and D finals based on the points accordingly. Heat points were scored 3,2,1,0 and at the end of the first night of racing, the winner of the A Final would be awarded 16 points, second place would get 15, third 14 and so on down the ladder which would be the score they would carry onto the second day of racing.
Heat series one started off with Janniro taking the win over Borello, "GP" Jonny Oakden and Mike Cortese. Nicol looked fast in the next outing as he took home 3 points from Ruml, Corey Brookes and Jesse "Jet" Diem. East Coast Champ, "Sideways" Spencer Portararo was hot for the win in his heat. Jeremy "Darkhorse" Parsons was second, The "Shark" Dave Clark was third followed by "Smokin" Dave Oakden. 2019 East Coast Champion, Len McBride, looked smooth taking the final win of the round with Mikey Buman second, Correy third and Pat Cliff fourth.
Round two wins went to Buman, Janniro, Parsons and Nicol with seconds being had by Borrello, Ruml, McBride and Correy.
The following set would again see Janniro, Nicol and Buman at the front but Borello would join back in as well.
By the 4th series, Correy was really getting back into his groove and took a nice win to kick things off. Dave Oakden won next over McBride with Borello then taking it to Portararo. Everyone in the stands then watched with great excitement as Nicol would meet Janniro head to head! The race brought everyone to their feet as the two
stars went neck and neck for four laps with Nicol handing the Champ his first defeat, aside from one heat crash at the US Open a few wks earlier, in 5 previous races in NY!
To close out heat racing, Nicol continued his dominance defeating Borello, Janniro topped Correy, Buman headed Portararo and Parsons grabbed three points over J. Oakden.
Cortese took the D Final with Cliff second. Sadly both Ruml and Diem were not starters, Ruml with an injury and Diem with mechanical issues.
Dave Oakden looked good taking home the C Main over Clark, Brookes and J. Oakden.
Correy ended up one place shy of the A-Final but completed a great comeback story by grabbing the checkered flag in the B-Main over Portararo, McBride and Parsons! Not bad for having been retired for 13 years!!!
The A Main may have been one of the best speedway races in recent American history as Janniro and Nicol swapped the lead no less than 4 times in the deep dirt Owego, NY racetrack, keeping the fans on the edge of their seats until the very final corner when Nicol came back under Janniro one last time for the Victory! It was epic
The Sunday afternoon program started with Correy appearing sharp as he handily beat Buman with Bookes and Cortese third and fourth. Borello would then score a win with a solid second going to Diem followed by D. Oakden and Portararo, who fell and would end last. Fans who had witnessed the insane battle the evening prior between Nicol and Janniro, were slightly let down in the next matchup of the two as at this point Nicol got caught a bit out by early track conditions and struggled, coming up third, while Janniro lead and Clark would score two points for second.speedway!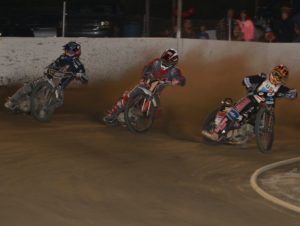 Portararo and Nicol were back on form in the 3rd round as they both won heats as did Janniro again.
It was more of the same in the next heat run from Nicol and Janniro but this time Correy grabbed his second victory of the day.
In an important matchup for final heat points, Borello put his Jawa in front of Portararo and despite his best efforts he could not surpass Borello for the three point haul. Clark and Diem were third and fourth. In Correy's quest to make the final top 4 he could not be denied his third checkered flag as he ran away from Cortese, J. Oakden and D. Oakden. Nicol would then meet Janniro again to the excitement of those in attendance but this Janniro uncharacteristically looped his bike over backwards on lap two while in second place thus inheriting fourth place while Nicol cruised to the finish ahead of Buman and Brookes.
The heat points from Sunday were now added onto each riders Main event total from Saturday and th
Diem rode a smart and safe race to become the days C Main winner, with D. Oakden edging J. Okaden and Cortese.en placed in the C, B and Four A Finals accordingly.
Buman rocketed into the lead in the B Main, only to be passed by Portararo who then unexpectedly fell while leading the next lap and brought out a stoppage. Portararo was put on the penalty line for the restart and reel
ed Buman in and passed him then Buman passed back before Portararo made a big run again and passed Buman only to crash and earn last place. Clark took second and Brooks third.
Points for the A Mains would be awarded 10, 7, 5, 3 and every final turned into barnburner speedway like the Saturday night finale!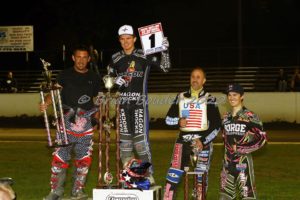 In the first event, Janniro and Nicol again made multiple lead chances and as Nicol firmly took the win at the end Correy made a nice pass up the inside of Janniro for second! The final three Mains were all won by Nicol in an incredible display and ironically the results of the last three were identical with Nicol, on his Hagon Shocks/Troy Lee Designs/NGK Sparkplugs GM, taking the win, Janniro second, Correy third and Borello fourth but each race was equally entertaining as Nicol and Janniro used the dep dirt and multiple racing lines to change leads and battle right to the end each time! It was an excellent show and a huge win for the young Nicol to take the 2020 Outlaw National Championship in stunning form!